OLE Monitoring
Monitor the main Key Performance Indicators of your company through visual management tools
Monitoring internal resources in your factory
OLE: Labour Force Efficiency Indicator
The OLE (Overall Labour Effectiveness) represents an effective measuring system able to improve production efficiency, with particular attention to the resources employed for the workforce.
This KPI allows decision makers to understand how the workforce affects production performance, also providing them with the means to prevent situations that put the efficiency of the production process at risk.
Rapid identification of improvement areas

---

better decision-making

---

Increasing the performance of the workforce

---

Rationalisation of human resource management costs

---
What is the OLE indicator?
The OLE (Overall Labour Effectiveness) indicator consists of three indices: availability, performance and quality of the workforce, but how are these values determined?
Availability: is represented by the presence or absence of the workforce (justified and unjustified absences, together with other problems that may occur). Even the preparation of operators affects the performance of availability because some equipment, for their correct operation, require special certifications from operators.
Performance: that is the time spent by the operator to realize and to deliver a product, for this reason it is fundamental also the moment of initial setup of the equipments.
Quality: is the value that allows decision makers to understand if internal resources follow processes and instructions using the tools in an appropriate way.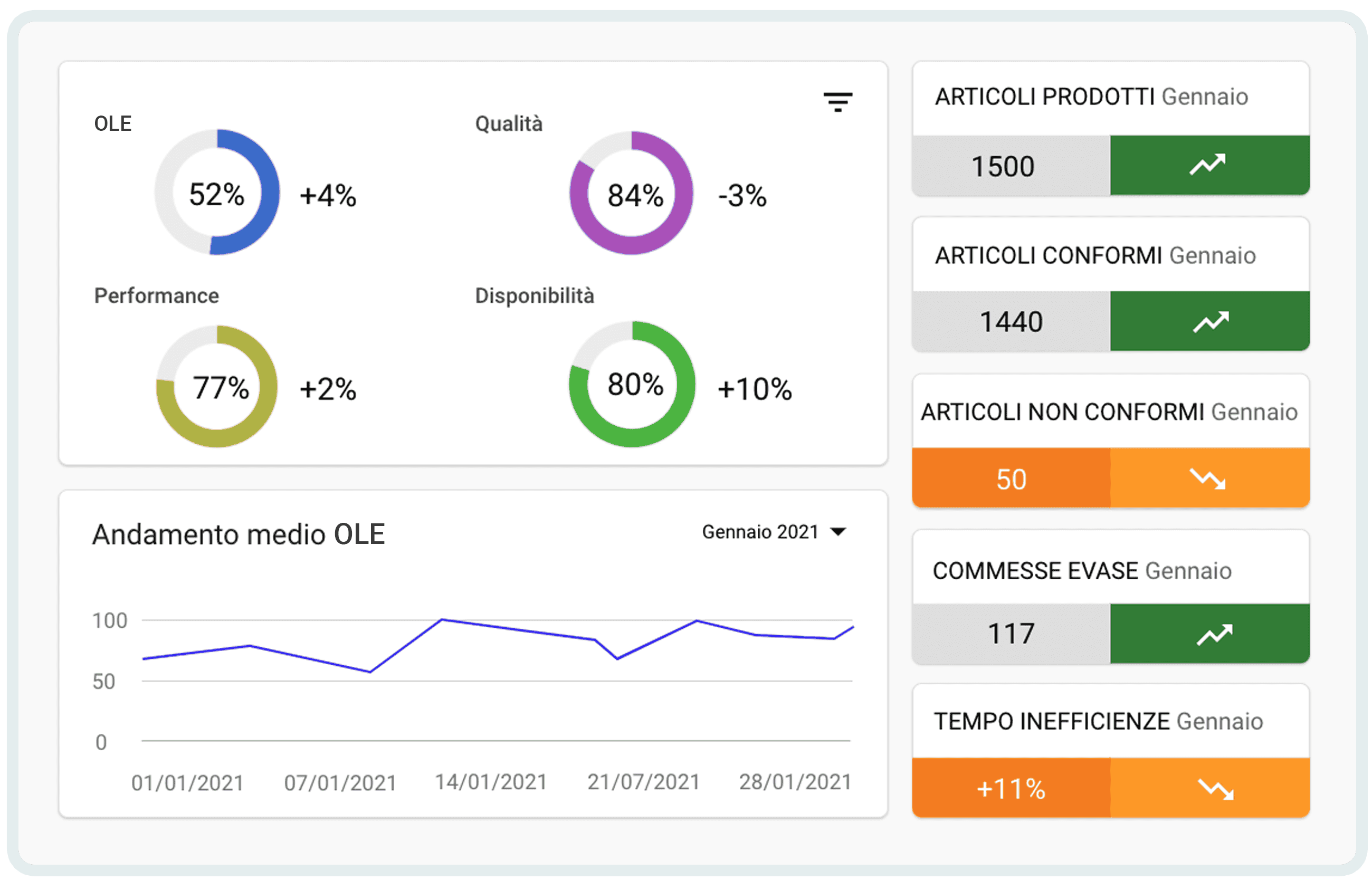 Quantify and predict workforce performance

---

Identifying the causes of production inefficiency

---

Timeliness in taking corrective action

---

Identify opportunities from the production system

---
What advantages do I get from the OLE analysis?
The OLE indicator is particularly important in that it shows the cause-effect relationship of labour force factors and shows how actions taken can have an impact on improving a given production area. It is important to note that this KPI highlights that internal staff training can improve company productivity.